rap registration,csc rap exam,csc exam,

CSC VLE इंश्योरेंस मित्र बनकर कर सकते हैं अच्छी कमाई Updated 2020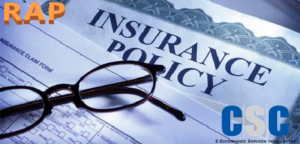 Rural Authorized Person (RAP)
ek vyakti hota hai, jisake paas beema kampaniyon kee or se क्लाइंट ke saath beema polisee ko solv karane ya baatacheet karane ka लाइसेंस hota hai. VLE ab ek graameen praadhikrt vyakti (rap) ban sakate hain jo apn csc portal ke
maadhyam se beema polisee ko bech saken. RAP VLE banane ke lie RAP prashikshan मॉड्यूल ko poora karana hoga aur NIELIT dvaara aayojit rap pareeksha mein paas hona hoga.
RAP बनने के फायदे
Online pareshaanee mukt license
beema kampaniyon ke maujooda ejenton ke paas aarepee laisens ho sakata hai
kauntar polisee jaaree karana
ek portal ke tahat kaee kampaniyon tak pahunch
sabhee utpaadon kee bikree ke lie tvarit kameeshan
VLE jeevan aur saamaany beema donon utpaad bech sakata hai.
CSC VLE लाइसेंस प्राप्त RAP कैसे बने?
1. http://13.126.173.165/insurance/ ke maadhyam se aarepee ke lie panjeekaran karen. aapako panjeekaran prakriya ke dauraan pate ke pramaan, photo aaeedee pramaan, pan card kee copy aur upalod ke lie shiksha pramaan kee aavashyakata hai.
2. panjeekaran sankhya ka upayog karake pareeksha aur laisens kee or rs. 350 / – ka bhugataan karen.
3. modyool aur moolyaankan ko poora karane ke baad veeelee ko onalain pareeksha ke lie upasthit hona chaahie jo unake kendr ya ghar se diya ja sakata hai. VLE ke paas intaranet aur veb kaimara tak pahunch honee chaahie.
4. aap ka pepar 100 nambar ka hota hai aur agar aapake 35 nambar aa jaate hain to aapako EXAM mein saphal maana jaata hai aur aap pareeksha paas kar jaate hain to aapako isaka sartiphiket pradaan kar diya jaata hai aur aapake inshyorens kee sevaen ektivet ho jaatee hain agar aap pepar mein galatee se phel ho jaate hain to aap dobaara ₹150 dekar phir se EXAM de sakate hain
5. CSC VLE rap ka Exam onalain somavaar se shukravaar subah 10:00 baje se shaam 4:00 baje ke beech mein kabhee bhee de sakate hai sirph sarakaaree chhuttee ko chhodakar
RAP परीक्षा की मुख्य विशेषताएं
EXAM link somavaar se shukravaar (10am se 4pm) yaanee sabhee kaary divason mein sakriy rahega.
pareeksha kee taareekh ka intajaar nahin
pareeksha hindi/ angrejee donon bhaashaon mein dee ja sakatee hai
pareeksha kee avadhi 1 ghante hai aur nyoonatam utteern ank 100/35 hain.
RAP महत्वपूर्ण दस्तावेज
Signed copy of ID Proof

Address Proof

PAN Card

Educational Proof

Copy of Proof of Surrender of License

1 Passport Size Colored Photograph
Note-
 For more information, or if VLE encounters any problems related to this service, then he can contact, 
Call – 180030003468, email – [email protected]