Universal Account Number – UAN yah ek adviteey 12 ankon kee sankhya hai jo pratyek vyakti ke lie alag hai. yah sankhya, mool roop se, usake sabhee EPF khaaton ko niyantrit karane mein madad karatee hai. UAN aamataur par sangathan mein kaam karane vaale karmachaaree se juda hota hai.
What is UAN?
yah sankhya bhaarat sarakaar ke shram aur rojagaar mantraalay dvaara jaaree kee jaatee hai. yadi koee vyakti apanee naukaree badalata hai, to use sangathan ke saath ek naya PF khaata milega. is tarah, ek karmachaaree ko kaee PF khaate nambar aavantit kie jaenge.
ekaadhik PF khaata sankhya chinta ka ek kshetr hai kyonki kaee karmachaaree PF raashi ke hastaantaran aur nikaasee se sambandhit shikaayaton kee riport karate hain. is samasya ka saamana karane aur bhavishy nidhi khaaton ke prabandhan ko aasaan banaane ke lie, uan kee avadhaarana ko pesh kiya gaya tha uan ek ekal khaata sankhya hai jo ek niyokta se judee kaee aaeedee ko jodegee. UAN ke saath, ek karmachaaree PF nikaasee kee prakriya ko aasaan banaane aur sthaanaantarit karane ke lie apane sabhee EPF khaaton ko jod sakata hai.
Features or Benefits of UAN (विशेषताएं और लाभ)
UAN

ek baarah ankon kee sankhya hai jo pratyek sadasy ko saumpee jaatee hai jo karmachaaree bhavishy nidhi mein yogadaan de raha hai.

yah ek khaate se doosare khaate mein dhan ke tvarit aur suvidhaajanak hastaantaran ko saksham karata hai.

e

PF

dvaara jaaree kie gae nae dishaanirdeshon ke anusaar, karmachaariyon ko

PF

raashi kee vaapasee ke lie apane niyokta se satyaapan kee aavashyakata nahin hai, basharte unake paas ek vaidh

UAN

aaeedee ho.

UAN

kee mukhy aapatti karmachaaree deta ke kendreekaran ka samarthan karana aur karmachaaree satyaapan ke uddeshy ke lie niyoktaon par karmachaaree bhavishy nidhi sangathan kee nirbharata ko kam karana hai.

vartamaan mein, sadasyon kee pahachaan niyoktaon dvaara praapt aankadon ke maadhyam se E

PFo

dvaara satyaapit kee jaatee hai.

UAN

kee shuruaat ke saath, sadasy ke baink khaate ka vivaran aur kevaeesee vivaran is tarah se jude hote hain ki karmachaaree kee pahachaan satyaapit aur sthaapit ho jaatee hai.

UAN

har karmachaaree ke naukaree parivartanon ko traik karane mein

EPFO 

kee sahaayata karega.

yadi koee vyakti apanee naukaree badalata hai, to use nae

EPFO 

khaate ko link karane ke lie apane niyokta ko

UAN

nambar dena hoga. is tarah,

EPFO 

ke paas adyatan jaanakaaree hogee ki koee vyakti kisee bhee samay kahaan kaaryarat hai.

isake alaava,

UAN

logon ko naukariyon ke svich karane par anaavashyak

EPFO 

nikaasee karane se rok dega. sarakaar

UAN

linkd deta sevaon mein adhik vrddhi laane ke saath, adhik karmachaariyon ko

EPF 

laabhon ke baare mein jaagarook kar rahee hai. ab

EPF 

adhiniyam ke naveenatam sanshodhan ke saath, nishkriy khaate bhee hiton ko jama karana jaaree rakhenge.
UAN के कुछ मुख्य लाभ निम्नलिखित हैं।
naukaree badalate samay EPF bailens ka pareshaanee mukt hastaantaran

kisee karmachaaree ko EPF kee sthiti dekhane, paasabuk aur phorm daunalod karane aur EPF daave darj karane kee anumati deta hai

uan niyokta satyaapan ke bina sanchit dhan ka laabh uthaane ka vikalp aur rn suvidha pradaan karata hai

upayogakarta esemes soochanaon kee sadasyata le sakate hain

pratyek karmachaaree ko keval ek UAN nambar jaaree kiya jaega

naukariyon ka parivartan uan sthiti ko prabhaavit nahin karata hai

sabhee EPF khaate ek hee UAN se jude honge

UAN kee sakriyata aavedak dvaara prastut kevaeesee vivaranon par nirbhar karatee hai

UAN panjeekaran rojagaar sangathan ke maadhyam se kiya jaata hai

UAN kee linking EPFO portal ke maadhyam se onalain kee ja sakatee hai

karmachaaree apane sabhee PF khaaton ko ek ekal ekeekrt khaate se jod sakate hain.

karmachaaree UAN ka upayog karake apana PF onalain nikaal sakate hain.

puraane khaate se PF raashi ko nae khaate mein sthaanaantarit karana bhee UAN ke saath aasaan ho jaata hai.

karmachaaree UAN sadasy portal ka upayog karake turant apane EPF bailens kee jaanch kar sakate hain. saath hee, UAN nambar ke saath esemes bhejakar karmachaaree PF bailens jaan sakate hain.

UAN ek pahachaan sankhya hai jo niyoktaon se svatantr hai. agar aapake UAN aadhaar aur kevaeesee satyaapit hain to niyokta ko aapakee profail pramaanit karane kee koee aavashyakata hogee.

UAN karmachaariyon ko apane PF khaaton ko onalain prabandhit karane mein madad karega aur isaka matalab yah hoga ki koee bhee niyokta kisee bhee karmachaaree kee PF raashi ko vaapas nahin le sakega.

agar kampanee har maheene PF jama kar rahee hai ya kampanee keval UAN portal par panjeekaran karake PF yogadaan mein deree kar rahee hai to karmachaaree traik kar sakenge.
कर्मचारियों को UAN के लाभ
PF vidadrol mein employar ka involvament nahin
vartamaan mein, PF nikaasee ke lie kisee bhee anurodh ko aapake pichhale niyokta se gujarana padata hai, us par hastaakshar karane hote hain aur phir EPFO ko bhej die jaate hain. UAN ke saath, niyokta ka hastakshep kam ho jaata hai. aapake pichhale khaate mein PF ka paisa kevaeesee satyaapan poora hone ke baad apane aap nae PF khaate mein sthaanaantarit ho jaata hai.
traansaphar phand kee jaroorat nahin
ek niyokta khaate se doosare mein PF raashi sthaanaantarit karana, ek lambee aur thakaoo prakriya hua karatee thee. UAN ke aane ke baad, dhanaraashi ko sthaanaantarit karane kee koee aavashyakata nahin hogee. khaaton ko badalane ke lie, aapako bas nae niyokta ko kevaeesee aur UAN vivaran ka ullekh karana hoga. ek baar jab ye vivaran aapake nae niyokta dvaara satyaapit ho jaate hain, to puraane khaate se PF raashi nae khaate mein svachaalit roop se sthaanaantarit ho jaegee. UAN aavantan se pahale khole gae puraane PF khaaton ke lie, sthaanaantaran abhee bhee dijital ya bhautik roop se kiya jaata hai.
aasaan prabandhan ke lie esemes alart
EPF portal par panjeekaran karake, karmachaaree ko EPFO se esemes alart praapt hoga, jab niyokta ya karmachaaree dvaara yogadaan diya jaata hai. aapake baink bachat khaate mein debit ya kredit hone par aapake dvaara har baar aapake fon par milane vaale alart bahut samaan honge. UAN ka ullekh karake EPF portal se pf paasabuk daunalod karake aap apane kul shesh kee bhee jaanch kar sakate hain.

How To Do UAN Registration or Activation Online
uan ka arth hai univarsal akaunt nambar. kisee sangathan mein kaam karane vaale karmachaaree ke lie yah atyant mahatvapoorn hai kyonki karmachaaree bhavishy nidhi (epf) kee sevaon se sambandhit sampoorn prakriya ab dijital ya onalain kaary karane yogy hai.
UAN पंजीकरण
niyokta jinake paas 20 ya usase adhik karmachaaree hain, unhen provident phand panjeekaran praapt karana aavashyak hai.
15,000 rupaye tak ke vetan vaale karmachaariyon ko karmachaaree bhavishy nidhi (epf) yojana ke tahat naamaankit kiya jaana chaahie.
20 se kam karmachaariyon vaale niyokta bhee svechchha se bhavishy nidhi panjeekaran praapt kar sakate hain.
koee bhee niyokta jo

EPF yojana ke tahat panjeekrt hai, apane karmachaariyon ko UAN

jaaree kar sakega, jo yojana ke tahat naamaankit hain.
iss uan ka upayog aipfo ke tahat karmachaaree kee pahachaan ke roop mein kiya jaata hai.
EPFO
portal par log in karana bhee aavashyak hai.
Steps for UAN Activation (यूएएन सक्रियण)
EPFO sadasy portal par nae upayogakartaon ke lie panjeekaran prakriya ek chhotee aur aasaan prakriya hai. portal mein panjeekaran karane ke lie upayogakarta ko neeche batae ja rahe staips ko pholo karana aavashyak hai:

1. UAN Registration karne ke liye sabase pahale aapako aipfo sadasy ke portal par jaana hoga. nimnalikhit link par jaen: https://unifiedportal-mem.epfindia.gov.in/memberinterface/
2. ab aapako vebasait ke mukhy prashth par, skreen ke nichle daen kone mein upalabdh "important links" taib ke tahat "achtivatai uan" vikalp par klik karana hoga.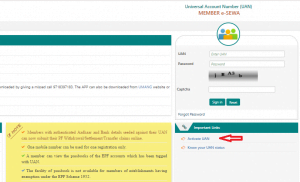 3. "Activate UAN" vikalp par klik karane par, upayogakarta ko ek nae vebapej par punah nirdeshit kiya jaega, ab aapako kuchh opshan dikhaee denge jinamen aapako sahee sahee jaanakaaree bhar denee hai jaise ki naam janmatithi eemel aaeedee ityaadi aur UAN ko ektivet karane ke lie aap apane aadhaar nambar ya pain kaard aur uan ya phir maimbair id main se koee ek opshan chun sakate hain aur isake baad aapako us opshan se sambandhit jaanakaaree bhee bharanee hogee



4. UAN Registration ko poora karne ke liye sabhee vivaranon aur oto-janaret kie gae kaipcha kod ko bharane ke baad, upayogakarta ko "gait authorization pin" vikalp par klik karana hoga.
5. isake baad, van taim paasavard ya oteepee panjeekrt mobail nambar par bheja jaega aur upayogakarta ko ek nae vebapej par reedaayarekt kar diya jaega.
6. is nae vebapej par, upayogakarta ko pichhale prshth mein usake dvaara die gae vivaranon (UAN, naam, janm tithi, mobail nambar aur eemel aaeedee) kee pushti karanee hogee.
7. ab aapako "i agree" chek box par klik karana hoga aur aage die gae boks mein aapake mobail nambar par aaya oteepee bharana hoga aur isake baad aapako "Validate OTP and Activate UAN" batan par klik karana hoga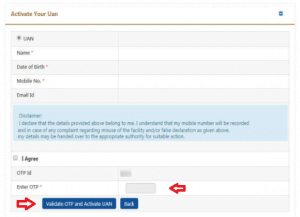 8. jab aapakee rajistreshan prakriya saphalataapoorvak ho jaatee hai isake baad aapaka paasavard aapake rajistar mobail nambar par bhej diya jaata hai" aur aapaka
UAN
saphalataapoorvak Activate ho jaata hai
UAN प्राप्त करने के लिए आवश्यक दस्तावेज 
Bank Details

Passport

Aadhar Card

Pan Card

Ration card

Driver's license